The girdle of a brilliant is the "visiting card" of a cutter. It affects the quality of the cut in the proportions by its thickness; in the symmetry by its regularity; and among the external features by its surface finish and by any damage present.
Fig 301 Ideal bruted girdle
Fig 302 Rough girdle with fringes
Fig 303 Rough girdle with fringes
Girdles may be of very varying quality, for instance, bruted, polished, faceted fine-grained and "tight", or rough, coarse-grained and "porous".
A bruted girdle displays a silky or waxy luster on a very fine-grained surface(Fig 301). If, however, the girdle is cut too quickly and with too much pressure, tiny pits and open pores develop on the surface; it is then described as "rough" or "porous" (Fig 302). Its appearance resembles that of a lump of sugar. Particles of dust and rubbings from the tweezers are then easily caught in the pores, so that the girdle has a grayish appearance.
Often associated with a rough and granular girdle are small scratches and fractures, which impart a "fringed" or "bearded" look to the girdle (Fig: 303). Fringes are not always on the surface, but may penetrate into the interior of the stone as tiny cleavage cracks, which adversely affect the clarity. So long as they are only on the surface, they can be removed by subsequent cutting, with little loss of weight (Fig 304-306). Subsequent cutting away of internal cleavage cracks is more difficult because the mechanical pressure of the cutting wheel may cause the cracks to extend further along a cleavage plane, i.e. they may open out in front of the cutting wheel. Distinguishing between inter­nal and external fringes is done in reflecting light. Internal features show a smooth surface, external features show up in oblique light as dark contours (Fig 307). Girdles are often faceted, that is, an indeterminate number of very tiny facets are cut on the surface (Fig 308).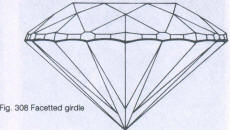 Polished girdles have no facets, here the surface is smooth and well polished.