Diamonds have the property of growing together into twin crystals. Such growth always takes place in opposite or mirror-image Crystallographic directions, so that in diamond twins hardness directions always run in senses opposite to one another. As a result, in cutting and polishing the facets involved, "knots" develop on the surface, fine visible lines which represent the twinning plane of the two twin crystals. As these twinning planes are in general colorless, they are perceived only as lines (Fig 324). In extremely rare cases the twinning planes are yellowish or brownish-colored, and then affects the clarity of the stone.
| | |
| --- | --- |
| | |
| Fig 324 Twinning lines | Fig 325 Twinning lamellae |
| | |
| Fig 326 Several twinning lines diminishing brilliance | Fig 327 As Fig 326 (2Ox) |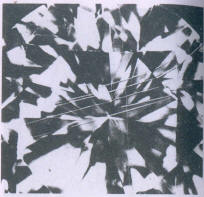 Twinning lines occur singly or in multiple repetition; in the latter case they are called twinning lamellae (Fig 325 - 328). According to the degree of their visi­bility and influence on the brilliance, they may reduce the cut-grade from "good" to "poor".