All facets should be perfectly cut; the edges of individual facets should meet in a single intersection (Fig 281). Sometimes the main facets of the crown and pavilion are truncated at the girdle (Fig 282 and 283).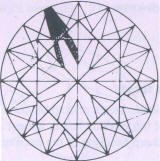 Truncated facets are wider than facets which run to a point at the girdle, and affect the uniformity of the ,facets. A truncated main facet, seen through the table, interrupts the symmetrical image of the adjoining facets (Fig 285).
The same statement applies to facets which are too short and which run into an edge of the crown or pavilion. They distort the symmetry considerably (Fig 284).
Fig 281 Pointed crown and pavilion facets
Fig 282 Truncated crown main facet
Fig 283 Truncated pavilion main facet
Fig 284 Pavilion main facet which, is too short